For more information on our products write us at : customer-service@bipublishing.com
_____________________________________

Written and Directed by Ken Scruggs.

Starring: Earnest Baskin (NEMESI), Darnell Crawley, Richard Hunter, Kenneth Scruggs

Click on the DVD cover to order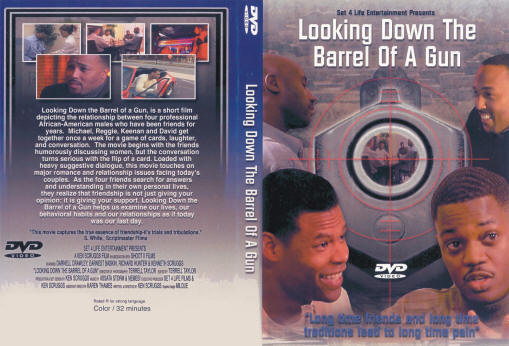 "Looking Down The Barrel of A Gun", is a short film depicting the relationship between four professional African-American males who have been friends for years. Micheal, Reggie, Kenan and David get together once a week for a game of cards, laughter and conversation. The movie begins with the four friend humorously discussing women, (a touchy subject for most men) but in the flip of a card the conversation soon turns serious. Loaded with heavy suggestive dialogue, this film touches on major romance and relationship issues facing today's couples. It also forces these four individuals to look at some of the less than positive and permanent repercussions of the player mentality. As the four friends search for answers and understanding in their own personal lives, they realize friendship is not just giving your opinion; it is also giving your support. "Looking Down The Barrel of A Gun" helps us examine our lives, our behavioral habits and our relationships as if today was our last day.


___________________________________________________
$7.99 plus $2.00 Shipping and handling.
_________________________________________________________________
For more information on our products write us at :
customer-service@bipublishing.com